Back to top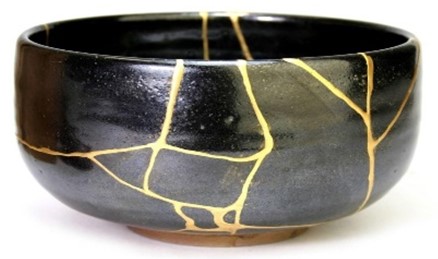 Broken Yet Beautiful
Jan 1, 2022
Broken Yet Beautiful
There's something about starting a new year sets our minds on nostalgia and the past as well as looking toward the future. Sometimes when we look back at the past year, we find ourselves focusing on lost opportunities and regrets as well as the mistakes we've made. I guess that's just our human nature. We may feel that life has broken our spirits. Yet there is no need to despair. In fact, we can celebrate all our mishaps, because good or bad, they have brought us to the place we are in life.
There is a Japanese art form that celebrates the flawed, broken and imperfect. It's called Kintsukurai (golden repair). It's the art of mending broken pottery with lacquered gold, silver, or platinum. The cracks are highlighted as a part of honoring the history of the object and is now considered to be more valuable than ever. This allows the service of the pottery to continue rather than to be discarded. The object is valued and may have a new purpose – usually one of beauty for people to admire.
It sounds a lot like the love of God in our lives. God takes our broken lives, just as they are, and restores them to something of beauty and purpose. Take heart to the familiar words from Psalm 23. The psalmist writes that the Lord "restores my soul." Our lives sometimes feel broken, but God will restore us. But it doesn't stop there. The psalmist sets our minds to the future when he writes that the Lord "leads me in the right path."
Psalm 23
A Psalm of David.
The Lord is my shepherd, I shall not want.
He makes me lie down in green pastures;
he leads me beside still waters;
he restores my soul.
He leads me in right paths
for his name's sake.
Even though I walk through the darkest valley,
I fear no evil;
for you are with me;
your rod and your staff—
they comfort me.
You prepare a table before me
in the presence of my enemies;
you anoint my head with oil;
my cup overflows.
Surely goodness and mercy shall follow me
all the days of my life,
and I shall dwell in the house of the Lord
my whole life long.
As God restores our lives, our flaws become a thing of beauty and our future begins a new purpose because God's mercies are new every morning. Happy New Year!
By Campus Pastor Lane Skoglund-Anderson