Back to top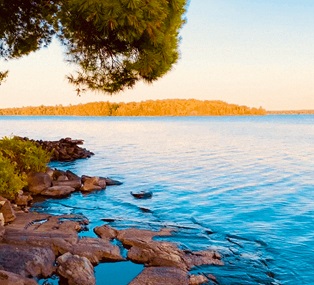 Summer Joys
"…this day is holy to our Lord; and do not be grieved, for the joy of the Lord is your strength." - Nehemiah 8:10
There's nothing quite like the joys of summertime at the cabin. My children will always cherish the many memories unique to being at the lake. I believe those times at the lake are as holy as the holy ground Moses was standing on when he heard the voice of the Lord in the burning bush. Joy is a gift from God which is a beautiful source of strength in our lives.
Take a moment and read this beautiful poem written by one of our residents' granddaughter and remember the joys of times spent away from the hustle and bustle of daily life and feel the peace and joy God offers us through the wonders of nature.
Cabin
By Claire M.
The sun is shining off the lake
The paint peeling off the barn filled with memories
The small swing set with a hole underneath
I see the swim dock floating in the lake waiting for us
My two cousins running around excited to start the day
The garage filled with the noise of machines at work
This is how the day starts at the cabin
At 10:00 sharp you can hear the boats speeding across the lake
We keep asking if we can go swimming
When the parents finally say yes, we rush to get our swimsuits on
We rush in water splashing everywhere
Building sandcastles, jumping off the dock, eating lunch at the beach
After lunch asking to go tubing
After many times we finally are allowed
Me and my brother switching off doing tricks to try to show off to each other
Always exciting and something new
When we are done we are tired and head up to the cabin
Dinner's ready and we are running around finding everyone
The ribs or brisket that have been smoking all day are done
A small campfire is going waiting for us to have s'mores
After a delicious meal it is time for s'mores
The marshmallow gets all over my face
The chocolate is melting on my fingers
That is an exciting day at the cabin
May memories of peace and joy give you strength today.
-Campus Pastor, Lane Skoglund-Anderson